(Scroll down for our latest update)
The Havelock Theatre Company was founded by actor/playwright Don Edwards in January 1999 in Havelock, Marlborough, New Zealand.  The first production was "The Haunted Through Lounge and Recessed Dining Room at Farndale Castle" by David McGillivray & Walter Zerlin Jnr, directed by Don and starring Julie Tidy, Rick Edmonds, Paula O'Donnell, Jaine Cronin, Mike Mullord, Josie Blackadder  and Natalie Roberts.
Since then, there have been two productions per year (twenty-five to date and counting), most of which have been written by local people.
Early plays included Dr Cassavent, Wakamarina Gold 1 & 2 and Once A Happy Cowboy written by Don Edwards and the Bob & Billy Trilogy, Place in the Sun, Johnny Castaway and Bob & Billy's Big Adventure by Rick Edmonds. For a full list see the "shows" tab.
In 2009 one of these plays "Two Weddings and a Funeral" written by local writer and artist Rick Edmonds won the New Zealand Theatre Federation Top of the South Festival .The play went on to be placed second overall at the South Island Theatre Federation Festival  at Dunedin that year. One of the cast won an award for most promising actor.
In 2010 and again in 2013 the Company won the Trust Power Marlborough Community Awards  for Arts and Culture. 

The citations commented that The Havelock Theatre Company provided the community with top-class theatre and has added to Marlborough's strong reputation as a region with a vibrant theatre culture.  We have put our prize money towards replacing the curtains over the Proscenium Arch which will enhance the architecture of the early 1900s of which we in Havelock are justly proud.
We are grateful to the  Havelock Mussel Festival Committee,  Marlborough District Council Arts and Heritage fund and Theatre New Zealand for their support. As a result of their generosity we have been able to purchase items for the Town Hall that benefit all users.
 
          

Our shows are presented with cafe-style seating. Bring your own nibbles and drinks to enjoy during the evening.

 

 

Tea, coffee, and tasty snacks also can be purchased before the show and during the interval. This service is operated as a fundraiser by one of our fellow community groups.
Update (January 2021) - One More Show - Book Now!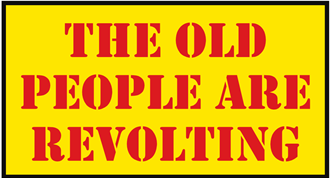 By popular demand (and only a little assistance from the rainfall preventing some of our cast getting to the Havelock Town Hall for the final performance) we have managed to arrange an extra performance of this popular show.
This will be at the earlier time of 7:30pm on Sunday 13 February. Doors will open at 6:45pm, so you can check in and claim your table early.
Tickets are still the same price, (Adult $20, Senior/Student $15, Child $10), and are available from the same sources:
The Gallery (Main Road, Havelock, Phone 574 2821)
So, if you couldn't make it to earlier shows, or if you just want to see it again, come along on Sunday evening for a night full of fun!
Update (December 2021) - Tickets fo our summer show now available online!
Great news! Rehearsals are underway for our January show ("The Old People are Revolting") are progressing well, and we're counting down to Opening Night, Wednesday 26th January, at 8:00 pm. You can buy tickets from The Gallery (60 Main Road, Havelock - Phone: 574 2821) or make online bookings through

TryBooking

(

https://www.trybooking.co.nz/IXP

).
You can download the poster.
Update (September 2021) - Talent Quest Postponed
Sorry Havelock Community Theatre friends, we've had to postpone the Talent Quest for now until the threat from COVID-19 reduces to a level we can welcome audiences back again. Watch this space for updates once the COVID-19 level starts dropping again..
In the meantime, keep practising your particular talent, so you're ready to wow the judges when we come back again!
Update (16 August 2021)
Our next show will be...
The Popular Return Of..

One Night Only, Saturday 25 September. Get your entry form in by 16 September (5:00 pm), and be at the Havelock Town Hall on Saturday for another fantastic show.
Click here to read more about the show, and to download an entry form. We're looking forward to seeing you on 25 September.